Editing a video is not an easy task as it requires proper training and skills. Finding a good & free video editing software for pc without watermark is difficult to find. Some video editing software claims to be free but after you export the edited video they add a watermark to the video which is annoying. Especially when you invest hours to provide shape to your videos, obtaining the final product with a watermark spoils all your effort. But don't worry. In this article, we will discuss the best video editing software for pc offering an excellent editing experience without any watermark.
After a long investigation, we have picked the 6 best video editing software you may find helpful. If you are a YouTuber and looking for the best video editing software free of watermark just go through this article. There are several options you can choose from listed below:
VSDC (Windows PC)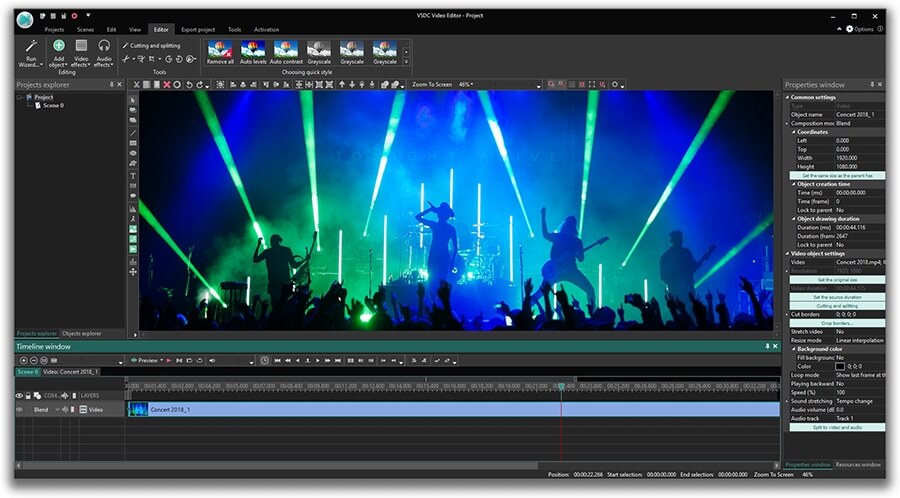 VSDC offers free video editing services for pc with a lot of video editing tools. Starting from mild to professional editing this software is the best suitable for content creators. You can utilize a plethora of techniques like color correction using a built-in LUT editor, FX, and blending along with trimming, and adding audio and text to the video. This software allows you to adjust brightness, contrast, and channels manually.
VSDC also supports webcam video capturing, a screen recorder, a voice recorder, a youtube video uploader, and a built-in video converter. It is one of the most lightweight software with a few gigabytes. You can utilize the free version of this software effectively. There is also a premium version of this software including premium features to create your video more professional.
VSDC Video Editor Tutorial
Pros:
Powerful editing tools: VSDC includes a variety of tools for editing videos, adding effects, and making transitions. It supports a variety of video formats and resolutions, giving you more freedom in your projects.
Advanced visual effects: To enhance your videos, VSDC offers professional-looking visual effects such as color correction and blending modes.
You may increase the sound quality of your videos by adjusting audio levels, removing background noise, and adding audio effects.
Non-linear editing: With VSDC, you may work with many video and audio tracks at the same time, allowing for complicated editing and creative creations.
VSDC provides a free edition with many capabilities, making it affordable to consumers on a tight budget.
Cons:
Steep learning curve: VSDC has a complicated interface that beginners may need time to understand and navigate successfully.
Limited help: VSDC support resources may be limited, making it difficult to get accurate responses or troubleshoot issues.
Stability and performance difficulties: When working on larger projects or with lower-spec PCs, some users have encountered stability and performance issues.
Lack of advanced features: VSDC may lack advanced functionality seen in professional-grade software, such as 3D editing and motion tracking.
Kapwing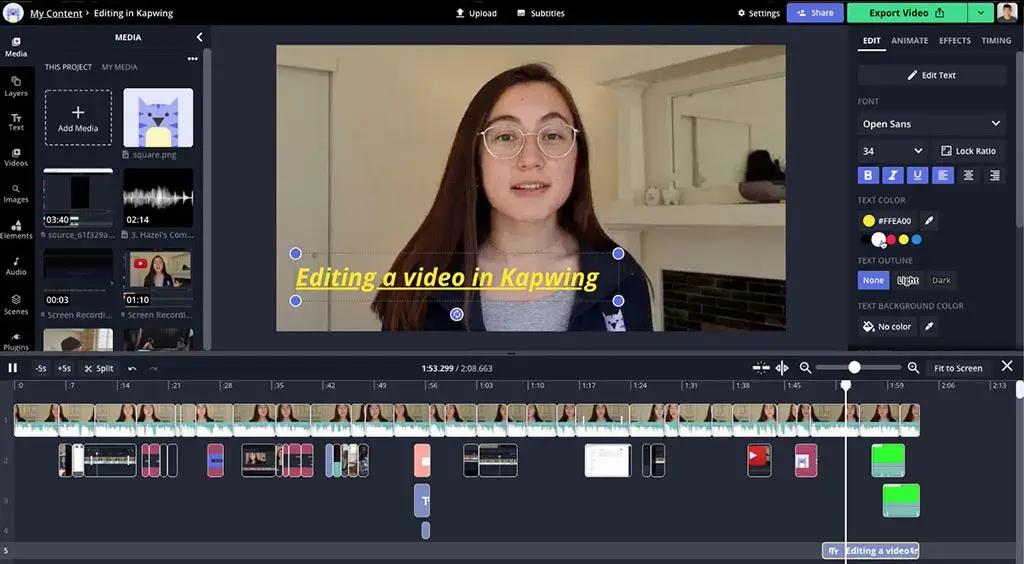 If you have no editing experience you must go for kapwing. This software works not only on your computer, you can also run it on your tablet, or phone with the help of a stable internet connection. So if you don't have a powerful computer you need not worry as this software runs on other devices too. You can upload files from your desktop or import them directly from Google Drive or Photos after you log into your online workplace with Kapwing.
Also Read: How to get iPhone emojis on Android
You can easily combine music and video files to produce picture-in-picture, split-screen with a number of video collage effects. You can trim, divide, and rotate files as well as alter the playback speed and zoom effect easily using this software. The software also comes with a lot of images, videos, soundtracks, and even sound effects you can choose from. Kapwing offers a premium version subscription using which you can edit and export multiple videos without a watermark.
Kapwing Video Editor Tutorial
Pros:
Accessibility and usability: Because Kapwing is a web-based video editor, it can be accessed from any device with an internet connection. Its simple interface enables beginners to begin editing videos fast.
Kapwing provides a wide collection of editing capabilities, including trimming, text addition, overlays, and effects. It also facilitates video project collaboration and sharing.
Presets & templates: Kapwing offers pre-designed templates to help you create professional-looking videos while saving time and work in the editing process.
Kapwing provides a free version with various editing features, making it accessible to users with varying budgets.
Cons:
Kapwing may lack several advanced features present in professional video editing software, such as powerful motion graphics or exact color correction.
Limitations in performance: The performance of Kapwing can be influenced by internet connection speed and device specs, potentially resulting in slowdowns when editing larger or higher-resolution videos.
Export quality constraints: The overall quality and bitrate of Kapwing exported videos may not be as high as professional-grade software.
Dependency on Internet connection: Kapwing requires a stable online connection, which can be a drawback if your internet access is limited or unstable.
Kdenlive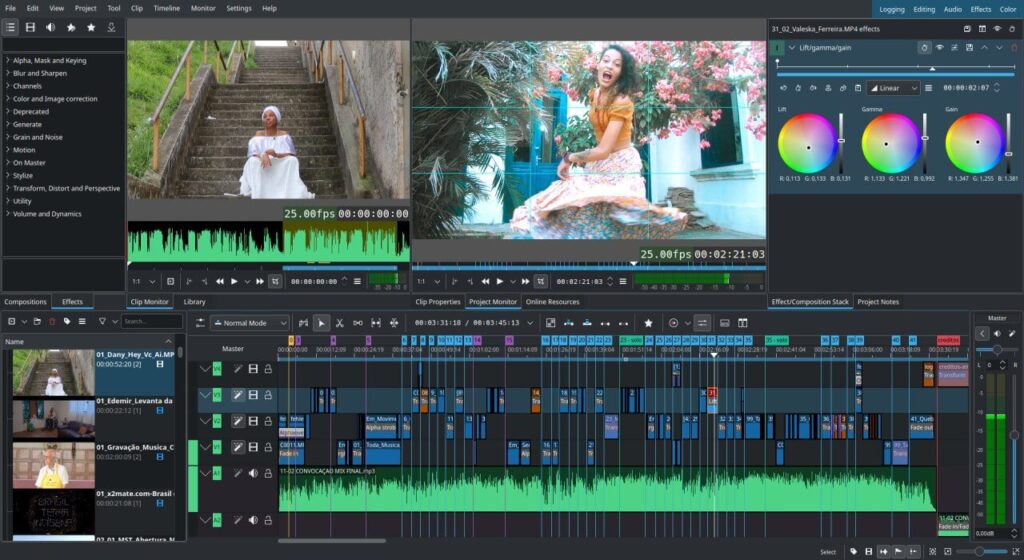 Kdenlive offers free video editing services and works on Windows, Mac, and Linux OS effectively. This software can edit your videos perfectly like a professional with its all advanced features. In addition to basic video editing, Kdenlive lets you make animated titles, utilize multi-camera editing features, deal with alpha channels, and explore various audio settings.
It comes with RGB adjustment tools, white balance controls, keyframe brightness controls, and gamma settings which are suitable for color correction. Kdenlive goes well with low system requirements on your pc without sacrificing the video's quality. You can export 4K videos without any watermark.
Kdenlive Video Editor Tutorial
Pros:
Advanced editing capabilities: Kdenlive includes a number of advanced video editing tools. You can simply clip, trim, and merge videos, as well as apply transitions and effects and change the color scheme. It even provides for exact control of certain factors using keyframe animation.
Multi-track editing: With Kdenlive, you can edit numerous video and audio tracks at the same time. You can use this ability to create advanced compositions, blend different audio sources, and sync them with your videos.
Kdenlive supports a wide range of video and audio formats, including popular ones like MP4, AVI, and WAV. You can deal with a variety of media formats without the need for further converters or third-party software.
Kdenlive is flexible and adjustable, allowing you to personalize the interface and workflow to your preferences. It also enables plugins and effects, which may be used to improve the software's functionality and add new features.
Open-source and community-driven: Because Kdenlive is open-source software, it has an active and supportive community. Based on user feedback, regular updates, bug fixes, and enhancements are performed. In addition, the community provides a collaborative platform for the exchange of knowledge, tutorials, and resources.
Cons:
Kdenlive has a long learning curve, which may be difficult for beginners to edit simple videos. Learning and mastering its numerous features, as well as understanding its more advanced functionalities will takes time.
While Kdenlive's stability has improved, occasional crashes or slowdowns may still occur and especially while working on larger or advanced projects or on systems with limited resources.
Kdenlive includes basic audio editing tools, however, it may lack some advanced features found in dedicated audio editing applications. If you need to manipulate audio extensively, you may need to use additional audio editing tools in addition to Kdenlive.
Kdenlive gives a good set of effects and transitions, although it may not have as many options as other video editing tools. This limitation can be problematic if your projects require a wide range of effects or specialized transitions.
Lack of official technical help: Kdenlive relies significantly on its community for support, and official routes for technical assistance may be restricted. While the community is generally helpful, it can be more difficult to locate accurate responses or receive quick support when compared to commercial products with dedicated support staff.
Openshot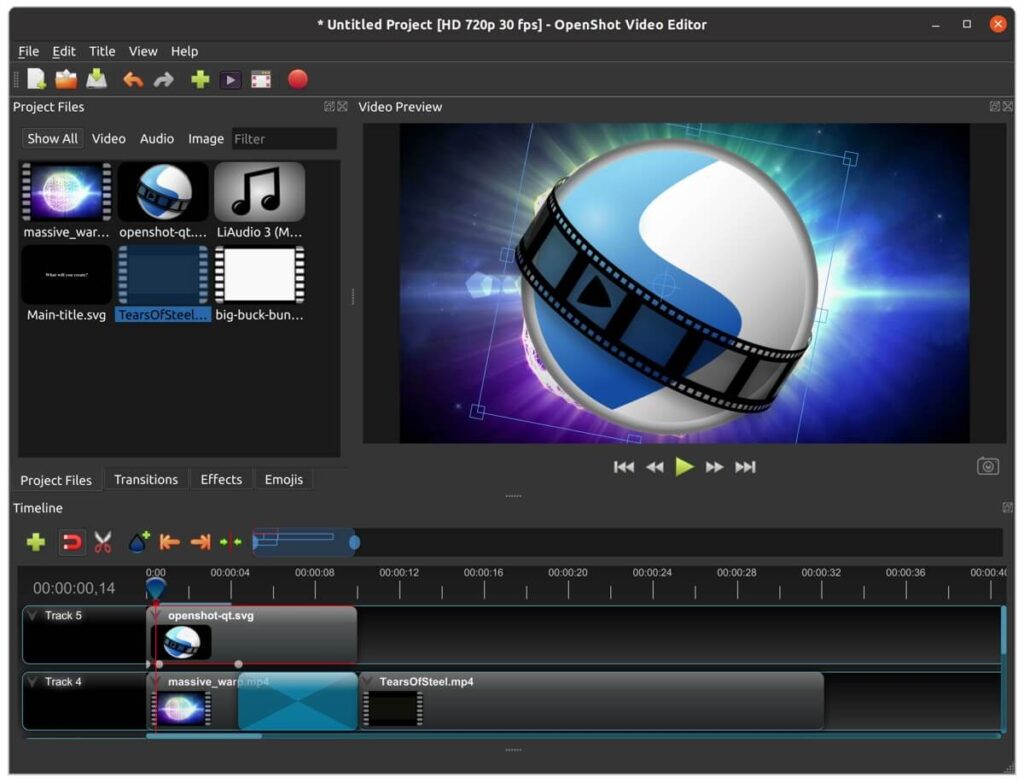 Openshot is undoubtedly one of the easiest for beginners to use, and it runs on all major operating systems, including Windows, macOS, Linux, and Chrome OS. You can use numerous tracks, get picture-in-picture or split-screen effects and combine different files in the same scenario with Openshot. Smart features like a sizable number of video transitions, an integrated gallery of emoji icons, and a separate menu page containing video and audio effects are included in it.
Openshot allows you to apply various generic text titles, lower thirds, Creative Commons license messages, and film rating warnings. Even this software advises integrating Blender, a free open-source animation program, for animated titles. There is no paid version of Openshot's software. If you are a blogger who needs to edit videos occasionally, Openshot can be a great option for you.
Openshot Video Editor Tutorial
Pros:
OpenShot offers a simple and easy-to-use interface, making it suited for beginners and users who have little video editing experience. The editing process is simplified with the ability to drag & drop media files, explore the timeline, and access menus.
OpenShot supports a wide range of video and audio formats, including popular ones like MP4, AVI, and WAV. This means you can work with a variety of media files without the need for further conversions or third-party software.
Basic video editing tools: OpenShot has basic video editing tools such as trimming, cutting, and combining. You may also include transitions, effects, and audio tracks, as well as change video properties like brightness, contrast, and saturation.
Unlimited video and audio tracks: OpenShot supports an unlimited number of video and audio tracks. This tool allows you to build complex and layered video works, as well as mix and synchronize different audio sources with your videos.
Open-source and community-driven: OpenShot is an open-source program with an active user and developer community. This results in frequent updates, bug corrections, and enhancements depending on user feedback. In addition to tutorials, resources, and support, the community fosters a collaborative environment.
Cons:
OpenShot may be lacking in some advanced features found in more professional video editing software. OpenShot's capabilities may be limited if you demand advanced functionality such as advanced motion graphics, 3D editing, or accurate color correction.
While OpenShot has improved in terms of reliability, it may still have occasional crashes or slowdowns, especially while working on larger or more complex projects. This is particularly noticeable in systems with low resources.
Limited effects and transitions: While OpenShot includes a collection of basic effects and transitions, the library may be less broad than those of other video editing software solutions. If you require a diverse set of effects or specialized transitions, OpenShot's capabilities may be limited.
Avid Media Composer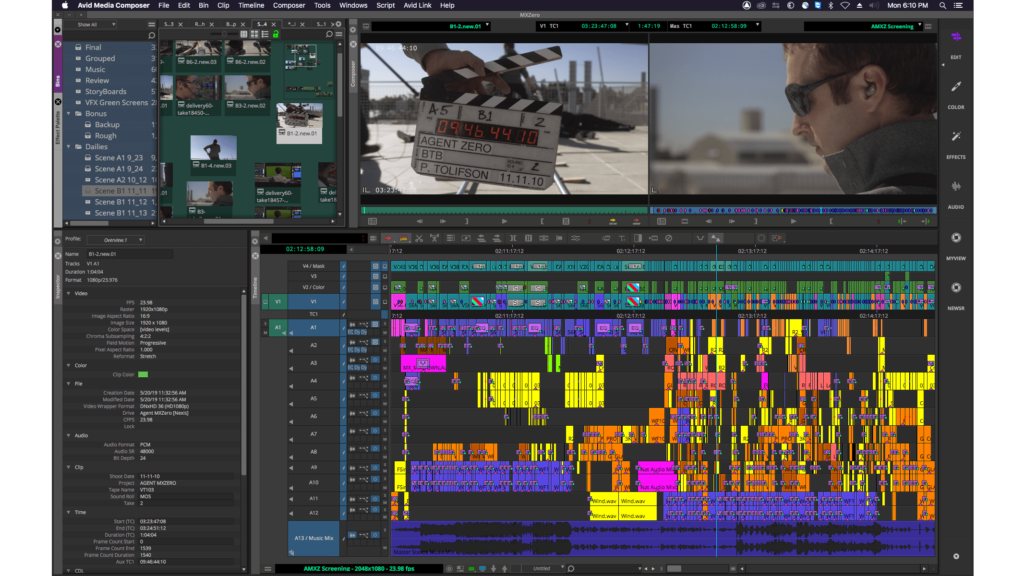 If you are a YouTuber and looking for a free video editing software for pc without a watermark you can pick Avid Media Composer. Though Avid Media Composer First is free software, you won't experience any limitations as a permanent user. It is a strong tool for budding video creators and can assist with tasks of any level of complexity.
The editor has multicam editing, smart trimming tools, video stabilization, a wide range of audio and video effects, and a collection of tools for color correction. It also has four video tracks and eight audio tracks. Additionally, the program is compatible with Avid Marketplace AVX and AAX plugins. You can export your film in 1080p resolution and immediately submit it to Vimeo or YouTube.
Avid Media Composer Video Editing Tutorial
iMovie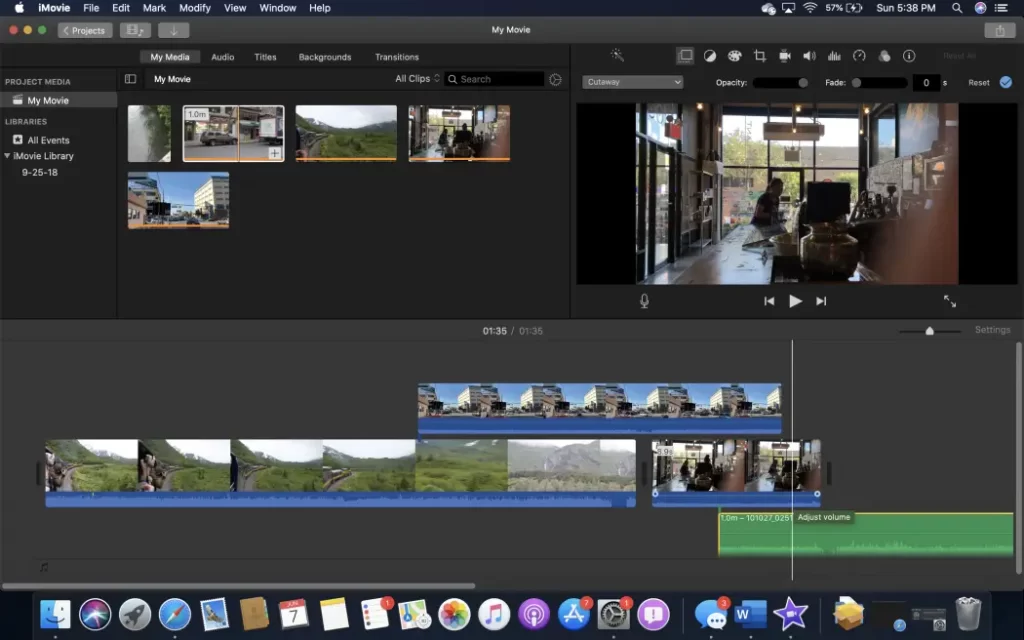 iMovie is another video editing software offering an easy user interface to beginners as well as professionals. Look no further if you have a Mac and haven't tried out iMovie.The software offers a timeline with numerous tracks for audio and video files, as well as a contemporary, user-friendly structure. Cutting, cropping, stabilizing shaky film, color correction, and even background noise removal are all included in the standard editing toolkit.
There is a built-in library of audio effects and music tracks for soundtracks. You can also import the soundtrack from your device's library. Besides a huge collection of presents including backgrounds and animated text templates are available in it. There are no paid Pro features or premium editions of iMovie. It is a fully free video editing program without any upgrades, watermarks, or trial periods.
iMovie Video Editing Tutorial
Conclusion
Video editing software is in high demand nowadays. Therefore keeping in mind the needs of the contest creators, new video editing software is launching day by day. You just need to grab the best one among them as per your preference. You only need a strong computer and a stable internet connection to utilize this newest technology. Today's video editing software is smarter, offering you a professional video editing experience without a watermark. No matter if you are a beginner or a professional blogger, find the best video editing software mentioned above.