As long as you are not F1 racer, most of the vehicle's horse-power is enough for your day to day use. I don't know whether you have heard about BYD, so for those who don't know about BYD let me tell you, BYD is the closest competitor of Tesla. BYD has also beaten Tesla in global EV sales and sold the largest number of electric cars. Even Warren Buffet owns a 7.73% stake in BYD. So recently BYD introduced BYD e2 model.
First, in terms of appearance, the front of BYD e2 looks fashionable and atmospheric, and the grille adopts a multi-spoke shape, which looks very avant-garde and individual. The avant-garde headlight design is used again, and the overall look is full of simplicity. The car has built-in headlight height adjustment, automatic opening and closing, delay closing, and many other features. Coming to the side of the car, the body size of the car is 4.2 meters, 1.7 meters, and 1.5 meters. The car adopts cold lines, and the side wall feels very concise. With large-sized and thick-walled tires, the impression left is very eye-catching. In terms of rear design, the rear of the car looks more dignified, and the taillights show a casual design style, creating a good aura.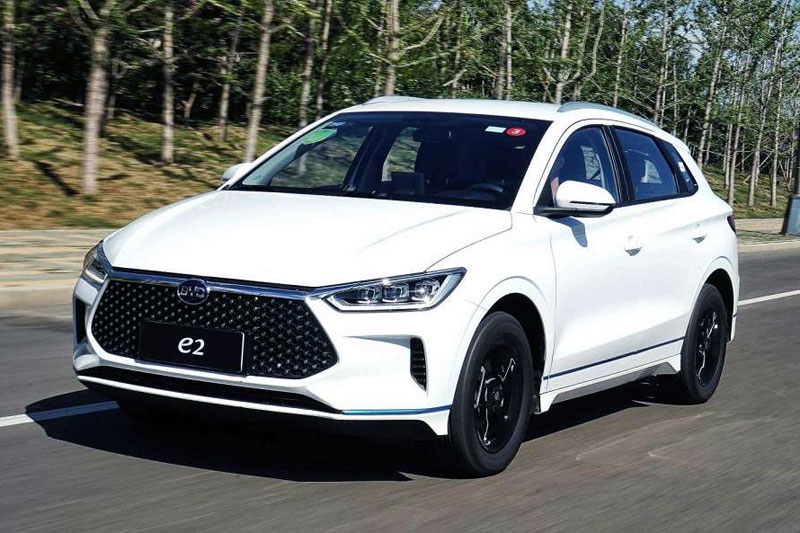 Sitting in the car, the interior presents a simple and elegant design style, reflecting the sense of design. The shape of the steering wheel of the car is very round and lovely. The interior is fully furnished and is made of leather material and also has a high degree of palm fit. Take a look at the central control, the car is equipped with a touch-sensitive LCD central control screen, which makes the interior style impressive, and the overall design of the central control is remarkable. The interior feels good, and looking at the dash and seats, the car has a soft dash with a nice display. The car uses imitation leather seats, equipped with functions such as the overall seat down, and the overall comfort is acceptable.
BYD e2 is matched with a fixed gear ratio gearbox, the total motor power is 100KW, and the total motor torque is 180N.m. The power performance is good. The car is equipped with traction control (ASR/TCS, etc.), Bluetooth/WIFI connection, cruise control, smart key, sun visor vanity mirror, and other configurations, which are pretty rich in functions, and are undoubtedly very friendly to drivers.
The moderate size of the car is a very suitable choice for many families, and the interior space is sufficient for daily use by families. BYD cars are very cheap as compared to tesla. The price of BYD cars starts from Rs 10 lakhs in India.