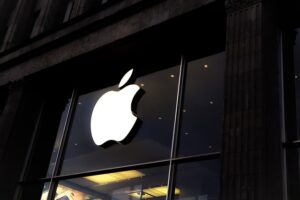 According to foreign media Brut, Apple CEO Tim Cook gave a remote interview at the VivaTech Technology Conference in Paris. In the 30-minute "fireside conversation", Cook discussed Apple's importance of privacy and some future plans. In December 2020, the European Commission, the European regulator, announced the drafts of the Digital Markets Act and the Digital Markets Act. The former is aimed at the issue of platform governance, aiming to create a more secure digital space so that the basic rights of all digital service users can be guaranteed; the latter is aimed at the issue of platform competition, aiming to create in the EU single market and on a global scale A level playing field to promote innovation, development, and competition. But both of these regulations have caused a lot of trouble for Apple.
In April 2021, the European Commission stated that Apple's App Store violated relevant regulations by preventing users from paying for apps that subscribe to other platforms. At the same time, the European Commission also requires Apple to allow the launch of third-party application stores, that is, side-loading. In this regard, Cook responded for the first time.
1. Sideloading is not in the "best interests of the user":
Cook mentioned that privacy is a focus, and Apple has always been concerned about privacy issues. "You can think of being monitored from time to time in a world where personal privacy is not valued. Everyone is worried that others are paying attention to them, so they start to do less and think less. No one wants to live in a world where freedom of speech is gradually shrinking." He said.
When talking about technical regulation, he thought: "When I see the technical regulations that everyone is discussing, I think there are some good parts, and some are not in the best interests of users". As a case of the latter, he said, "The Digital Market Act currently under discussion requires the iPhone to allow sideloading."
"This (sideloading) will undermine the security of the iPhone. We have put forward many privacy protection initiatives in the App Store, establishing privacy labels, tracking transparency functions (App Tracking Transparency – Once Apple allows sideloading), these things will No longer exist."
In December 2020, Apple introduced a privacy label feature. Each software needs to explain to users the types of privacy data that an application may collect, and clearly identify privacy options such as "positioning" and "advertising data". In February of this year, Apple added an APP tracking transparency function to the iOS14.5 system. It requires users to choose whether to be tracked while using the software and on the Internet. If you choose to require the app not to track, the developer will not be able to use the System Advertising Identifier (IDFA) to track your usage or collect your personal information. However, it is reported that many software have been using other methods to collect user information, and the information collected by Apple users has not decreased.
2. Because of the App Store, iOS is "safer" than Android:
"The malware on Android is 47 times that of iOS," Cook claims. "This is because we have the App Store when we design iOS, and all apps are strictly censored before going online. This makes many malware unable to survive on the iOS system. Users keep telling us how much they value the App Store, so We decided to support users," Cook said. "I think most people know that privacy is important, and more and more people regard privacy as one of the most important issues of this century."
Since the Android system is an open platform, Android users can download apps directly on the web without going through the system software store, and malware can also "take the opportunity to enter". In fact, Google is strengthening the privacy protection of Android users, hoping to reduce the tracking of users by advertisers. In June of this year, Google told developers who tried to illegally track user information, "He will receive a bunch of zero characters instead of user information."
3. Apple's future: optimistic about the AR field and focus on body data monitoring:
In addition to privacy, Cook also revealed Apple's future layout. Cook sees augmented reality (AR) and the intersection of health and technology as areas where he sees future potential. He believes that AR is a technology that can improve life extensively. He hinted at Apple's layout of AR hardware in the future, he said, "We first develop AR with mobile phones and iPads, and then we take a look at the situation (where are the applications)". At the same time, Cook expressed that Apple has been paying attention to the health field.
"When we started making Apple Watch, we added a heart rate sensor from a health point of view. Then we received a large number of email feedback from users that they knew their heart problems through the Apple Watch. So, we were thinking, People need to strengthen the monitoring of their bodies. We still have a lot of ideas. This is a big plan". In addition, when it comes to Apple making cars, Cook refused to answer directly, but he mentioned, "there always has to be something up our sleeve."
Recently, Apple has been controversial because of the App Store insurance. Last month, Epic Games, the developer of "Fortnite", officially opened a lawsuit with Apple, in which it accused Apple of forcing software developers to pay 30% of the commission, violating antitrust laws. In this regard, Apple fought back with "maintaining the safety of users."
However, the App Store's annual revenue has reached 500 billion US dollars. Allowing sideloading not only affects Apple's closed-loop ecology but also affects Apple's revenue generation and user information security. But Apple has always paid attention to the privacy of its users. On June 8, Apple held the 2021WWDC conference online, indicating that iOS 15 will introduce more privacy control options.